At A&B Labs, we offer extensive microbiology capabilities. Our advanced technology and equipment allows us to test for presence, absence or numbers of microbial organisms. Because we understand the importance of microbiology testing and the negative effect the presence of microbes can have, we work closely with our clients in order to comply with their specific needs for the analyses of drinking water, wastewater, soil, air, pathogens, and food for microbiological indicators. Our team consists of certified professionals performing analyses under the Standard Methods for the Examination of Water and Wastewater by APHA for the examination
of waters ranging from municipal, surface, waste and cooling.
We are ISO/IEC 17025:2017, TCEQ, AIHA approved laboratory, and licensed by the TDLR as a Mold Analysis Lab.
A & B offers the following Microbiology strict quality assurance guidelines

Culture Identifications to Genus Level

Yeast and Mold Identification / Screens

Bacterial Identifications / Screens

Culture Identifications to Genus Level

Yeast and Mold Identification / Screens

Bacterial Identifications / Screens

Total Coliforms and E.coli

Enterococcus

Fecal Coliform / Fecal Streptococcus

Legionella

Heterotrophic Plate Count

Total Coliforms and E.coli

Enterococcus

Fecal Coliform / Fecal Streptococcus

Legionella

Heterotrophic Plate Count
Industrial and Recreational Water

Pseudomonas Aeruginosa

Iron and Sulfate reducing bacteria

Gram positive organisms including Staphylococcus Aureus, Enterococcus and Streptococcus aureus species

Enterobacteriaceae: Salmonella, Shigella, E.coli O157:H7

Pseudomonas aeruginosa and Pseudomonas species identification

Pseudomonas Aeruginosa

Iron and Sulfate reducing bacteria

Gram positive organisms including Staphylococcus Aureus, Enterococcus and Streptococcus aureus species

Enterobacteriaceae: Salmonella, Shigella, E.coli O157:H7

Pseudomonas aeruginosa and Pseudomonas species identification
Air & Bulk Samples Analysis

Non-culturable

culturable

Mold Specific Quantitative Polymerase Chain Reaction (MSQPCR)

Non-culturable

culturable

Mold Specific Quantitative Polymerase Chain Reaction (MSQPCR)
Salmonella
Shigella
E.coli
Listeria
Campylobacter
Vibrio
Aerobic Plate Count
Yeast & Mold
Enterobacteriacease
Lactic Acid Bacteria
Psychrotrophic Bacteria
Staphylococcus Aureus
Bacillus Cereus
Dr. Wagner's Shelf Life – Includes testing of the following: aerobic plate count, lactic acid bacteria, yeast and mold. Two container are needed for each product. 35 calendar days TAT
List of Tests Performed at A & B Labs
| | |
| --- | --- |
| Coliforms – Total | Listeria |
| Coliforms – Fecal | Shigella |
| Coliforms – E. coli | Mold |
| Fecal Streptococcus | Mold – Viable |
| Geometric Mean Coliform | Microscopic Exam |
| Enterococcus | Pseudomonas aeruginosa |
| Total Plate Count | Salmonella |
| Standard Plate Count | Staphylococcus |
| Heterotropic Plate Count | Vibrio |
| Aerobic Plate Count | Acid Producing Bacteria |
| Anaerobic Plate Count | Sulfate Reducing Bacteria |
| Campylobacter | Yeast & Mold |
| E. coli O157:H7 | PCR |
| Filth | ELISA |
| Legionella | Dr. Wagner's Shelf Life Analysis |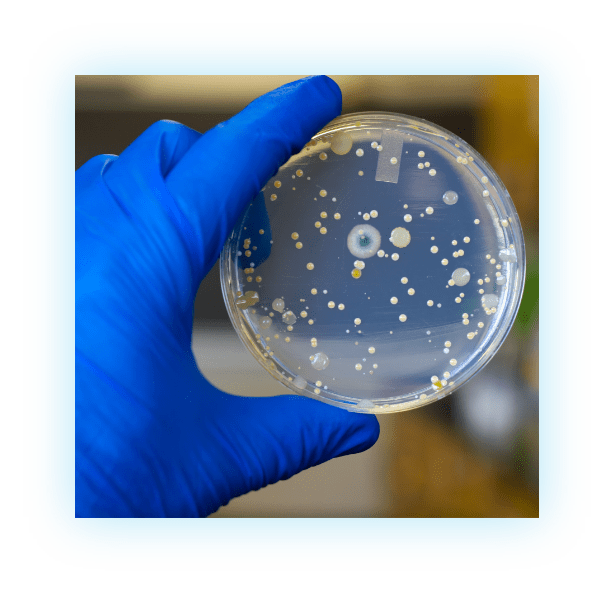 Frequently Asked Questions (FAQs)